Service Overview:
LASER CUTTING

With the latest fiber optic laser technology – combined with 6000 watts of power – Mac Metal laser cutting services are a cut above the rest. Through our ability to process complex part geometries from the thinnest steel, aluminum, stainless steel and copper to heavy duty metals ranging up to 1 inch (1.000") in thickness, and with available etching services to address part numbering and other Quality Management System standards, this infinitely repeatable, software-driven cutting technology gives us the flexibility and speed to deliver the results you require for your next fabrication project – on time and on budget.
What sets Mac Metal apart from the rest is our commitment to quality customer service. We are responsive, easy to work with, and take great pride in our craftsmanship.
---
METALS AVAILABLE:
Steel
Copper
Stainless Steel
Aluminum
EQUIPMENT:
NEW! Amada LCG 3015 AJ Series Fiber Laser
Fully Automated Mazak LaserCell
Automated 2500 watt CO2 Lasers
REQUEST A QUOTE TODAY:
Please fill out the form below to start your quote or give us a call at
262.251.4890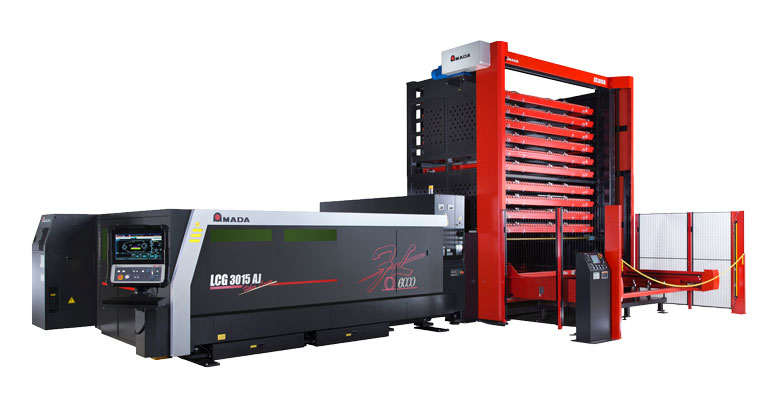 ---
ADVANTAGES OF FIBER LASER TECHNOLOGY
Designed for speed, accuracy and cost-per-part reduction
Superior copper and aluminum cutting vs. CO2 lasers
Leading-edge software offers world-class repeatable processes
Advanced motion control for performance optimization
Etching capabilities for part numbering and traceability
---
WHAT'S NEW:


The Latest in Laser Cutting
Mac Metal is excited to announce the addition of a new Amada 6K Fiber Laser cutting system to its arsenal of laser cutting tools. Equipped with various automation features to ensure speed, quality and accuracy, this high-speed true flying optic laser system is the latest in fiber cutting technology.
RECENT ARTICLES

July 24, 2018
If you're in need of metal fabrication, it's beneficial to learn the pros and cons of robotic and manual welding. They both have advantages and disadvantages, […]
June 18, 2018
Mac Metal's new fiber laser cutter has been in operation for several months now, providing high-quality metal cutting services to clients. But many industry professionals know […]
March 12, 2018
While it's understandable that you may want to stay in-house with most of the manufacturing process, there aren't many companies out there that handle their own […]

Get Started
SEE WHAT MAC METAL CAN DO FOR YOU